Elf's home visiting service, Elf@Home, aims to reduce loneliness by providing practical help, advice, support and friendship to patients with blood cancer being treated in the RD&E's Yarty ward. The project originally aimed to support patients and their families living in East Devon. However, during the first year, public demand led to the service expanding to cater for all patients attending Yarty ward. 
Elf@Home trains local volunteers to support patients and their families in their own homes, ideally in their local community. These volunteers will be beside you when the road ahead is tough, helping with both the practical and the emotional aspects of living with blood cancer. They can also help with 'hidden' problems – those small but important things like arranging dental appointments and assisted refuse collections, or helping with the weekly shop.
Volunteer visit day is the best day of the week
Michael, February 2018
Elf@Home has been so successful that the charity is already looking to expand the service, recruiting more volunteers, and offering more support to those dealing with the devastating effects of blood cancer. Next year, we also want to establish a Help@Home service, offering further support for small-scale and individual practical tasks including help with IT, light housework, household maintenance, dog walking, pet care and gardening. 
All these may not seem like large tasks, but what Elf has discovered is that even a small offer of help can have a huge impact on emotional wellbeing and positive outlook for the future. Having a friend to talk, cry or laugh with – and  simply to stand alongside – can make all the difference.
I can honestly say Elf@Home is the medicine I needed. Long may it continue
 Anne, 2018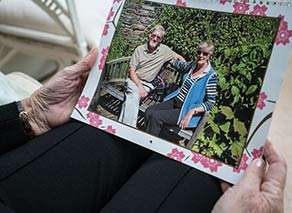 If you are a caring individual with a few hours a week available, we would love to hear from you. Elf volunteers are given full training for this rewarding and fulfilling role.
To find out more about Elf@Home, either as a potential volunteer or to request help on the phone or around your home, contact Sue Rose, community support service manager, on 07841 027228 or email sue@elftcharity.org.uk